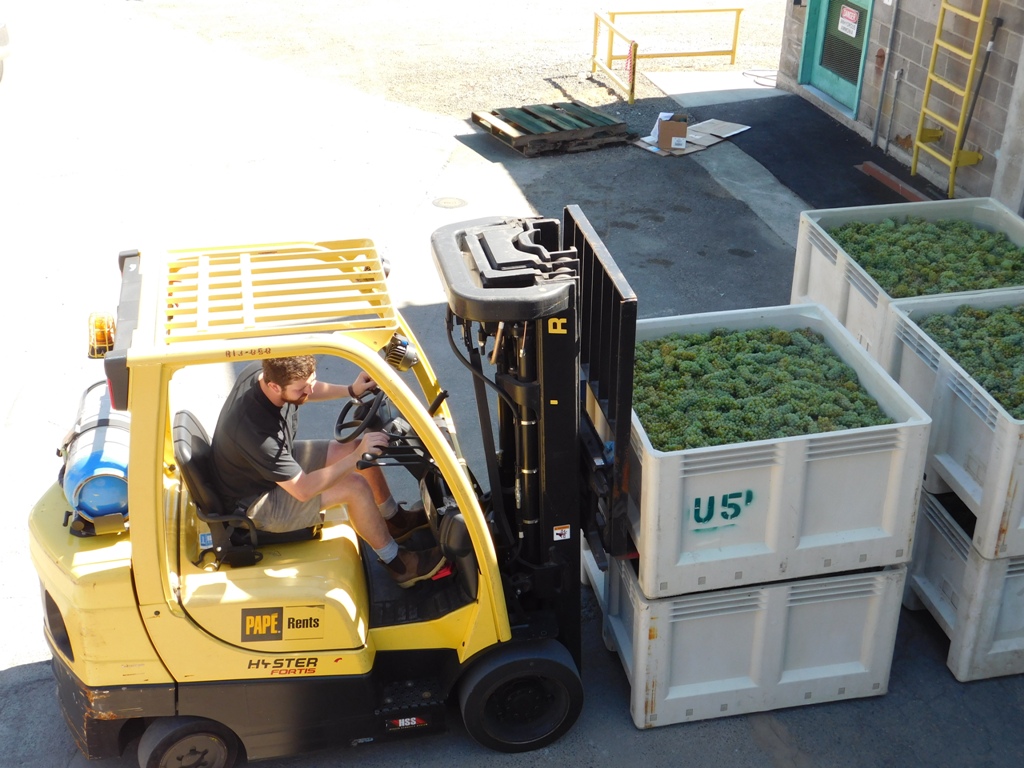 Harvest! What a swell time to be in the custom crush business in Southern Oregon. Berry weights are on track and yields are up, making this the third consecutive vintage with plus-size yields and excellent quality.
We had a bit of wildfire smoke in the Rogue Valley this summer but, apparently, nothing like in 2013. The good news is preliminary test crushing and analysis has shown that smoke taint probably won't be much of an issue. We've already crushed about 30% of our total contracted fruit and everything that's come in has been beautiful. Clients seem genuinely pleased that we work hard to identify their needs and desires, then execute the detailed plans.
But, hey, what's harvest without a few curveballs? Crushing in a construction zone has been, uh, interesting. I got barked at (justifiably) by our safety guy for not wearing a seatbelt on the forklift. I even got zapped a little bit by our crusher because of a bad ground on the electrical connection. And our shiny new top-of-the-line pump arrived defective and the supplier had to overnight new electronics so we could fix it. No worries….all in a looooong day's work.
The best news is the fruit this year is stunning and the ferments are as well. I have a vat of Pinot noir right now that smells like strawberries and fills the cellar with a downright intoxicating aroma. And the crush line and sorting system, including the optical sorter, are running like a champ.
The biggest laugh so far? A local winery used local cold storage for its grapes, unbeknownst to me. So, when a huge truckload showed up unannounced, let's just say I was a little confused and worried at first. "Just roll with it," became that day's mantra.
People ask me all the time, how is working in Southern Oregon different from past harvests in California? Truthfully, there's not much difference. No knock on California, but it's fair to say the people I work with here are just nicer. Let's crush!